Rasmussen College Grad Shares Story of Determination and Perseverance with Fellow Graduates [VIDEO]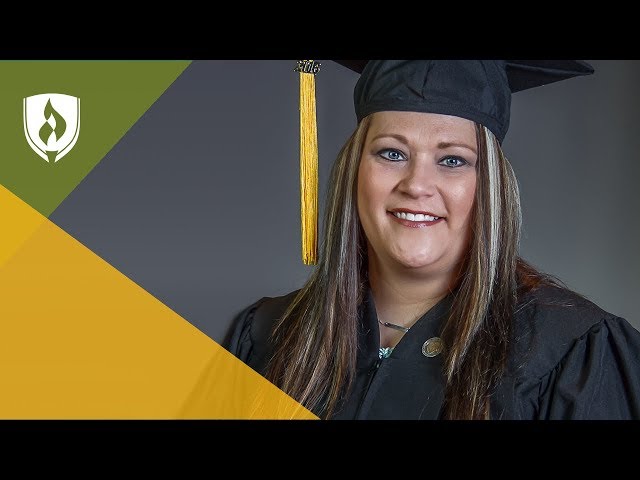 Recent Rasmussen College graduate Nicole "Nikki" Thompson uses a quote to describe not only her academic journey but the past few years of her life: "You never know how strong you are until being strong is the only choice." To Thompson, this quote reminds her to pursue her goals, knowing that with determination and perseverance she will be able to succeed.
Thompson says she would not be where she is today if it weren't for the help from everyone at Rasmussen College. The College's constant support helped set her up for success. She says, "Every good thing that has happened to me in the past few years came from somehow, someway being affiliated with Rasmussen College."
On February 24, 2017, Thompson had the honor of speaking at the Rasmussen College – Mankato graduation ceremony. She earned her Bachelor's degree in Criminal Justice and used her speech as a chance to share her story—a story of challenges and triumphs.
In 2011, after working as a cosmetologist for many years, Thompson decided to go back to school at Rasmussen College for graphic design. Six months into her program, her hands and feet started to swell, causing immense pain. Thompson was confused and concerned about what was happening, and after many tests and appointments, she discovered she had an autoimmune disease. Unfortunately, her illness forced her to take a difficult year-and-a-half medical leave from school.
During this time off, it began to sink in that she would have to live with this illness for the rest of her life. Throughout this dark time, she received two calls from Rasmussen College; both calls were to check in on her to see if she was ready to continue her education. By the time the second call came, it felt like the push she needed. "It was refreshing to hear from the College. It felt like someone was really looking out for me," she said. "This time I felt ready to go back."
After the second call, Thompson set up an appointment to sit down and talk to an admissions counselor again. "I was so pumped. Driving into campus I had my music cranked—I was so excited," she said. But when she pulled into the parking lot, nerves washed over her. She was suddenly anxious knowing that this time around, she would be going back to school while in her thirties.
However, once she began discussing college with her admissions counselor, her excitement grew. She decided not to return to the Graphic Design program. Instead, she was going to follow one of her lifelong dreams and take the steps needed to get into the criminal justice field—a move that turned out to be a monumental step in her life.
While pursuing her degree, Thompson attended classes both on campus and online. She built great relationships and was astounded that she felt personal connections with online professors and classmates who she had never met in person. "The program has the most amazing instructors; I could sing their praises for days," she said.
For the first time since her diagnosis of an autoimmune disease, Thompson felt she was in a good place. "School was my salvation. It kept me going," she said.
In 2014, things became complicated again. Thompson's grandmother, who was living with and being cared for by Thompson, became very sick and passed away. While it felt like everything around Thompson was falling apart, she did not want to take another leave of absence from school. College provided consistency and normalcy in her life. During this difficult time, she turned to her professors for support. Thompson said, "I have never experienced such support from strangers before. They were all willing to help me through this and remained open and honest with me the entire time."
Even though Thompson was going through some of the hardest times in her life, she was able to become a part of programs at Rasmussen College that helped to further inspire her educational journey. Thompson was asked to participate in the Rasmussen College Leadership Academy, where she was able to work with a small group of students on a community project for the REACH Drop-in Center—a center for homeless youth in Mankato. In addition to working on this project, she had access to inspiring speakers and professional development opportunities. Thompson says this experience was very eye-opening.
She also participated in the Rasmussen College work-study program throughout her education. Through this program, she worked in the Mankato School District, which sparked her interest in working with the juvenile sector of the criminal justice field. It came as a surprise to Thompson—but not to her professors or classmates—when she was chosen as the work-study Student of the Year out of more than 300 submissions. "Receiving this honor felt like a breath of fresh air. It gave me new life again and the push to complete the rest of my program," she said.
Through all of the ups and downs that Thompson experienced, making it to graduation and being asked to speak validated her choices, as well as the dedication and perseverance she put toward her goals. Thompson was "elated, very proud and flattered to be asked to speak at graduation." She hopes sharing her story will help someone else persevere through hard times and pursue their dreams.
To read other inspiring alumni stories like Nikki Thompson's, follow us on Facebook.